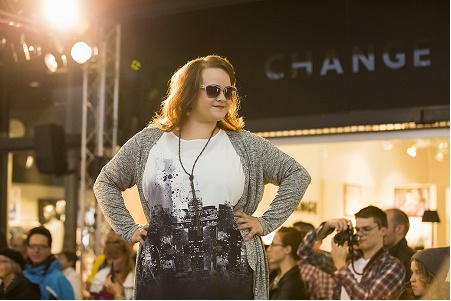 See me – Kate Suopajärvi
17.3. – 2.4.2020
Hämärä Gallery, University of Lapland, F building

Free enter
Opening day:
At the beginning of Arctic Desing Week, a special rarity will be seen: Plus Size Fashion Show.
The fashion show is produced by Kate Suopajärvi from Matiné Model Office. In the show you will see
Suopajärvi's own plus size women's clothing collection and partners
current fashion. Stage shows Beginners and Experienced Plus (44-60)
models all over Finland.
Who has the right to be seen? asks the artist, a student of clothing design at the University of Lapland
and plus size model Kate Suopajärvi aka Arctic Cherry. Suopajärvi wants to challenge
the prevailing beauty ideals and the strict criteria of the model world. "When the human body imagery
is becoming more diverse in fashion shows and commercials, and a change of attitude is possible, "
contemplates Suopajärvi. This is the reason why she herself has started working as a model, even though it does not fit
mold.
Arctic Cherry's motto: "For Diversity Beauty," means that
everyone is beautiful and precious as it is, and every size and appearance has
right to be seen. The stigma of obesity is enormous, persistent and also in structures and sometimes
hard to detect. The keys to reducing plus size discrimination are in the hands of
fashion designers and marketers, but everyone in their place can check
attitudes toward bigger people and begin to change one idea at a time.
Fashion show opens Suopajärvi exhibition See Me – Who Has the Right to be Seen? – Plus size fashion
world plus size model's point of view. Exhibition in Gallery Hämärä 17.3 -2.2.4.2020
Plus size Fashion Show at the Faculty of Arts, University of Lapland Monday 16.3. at 6pm
Free access to the event, limited seating.