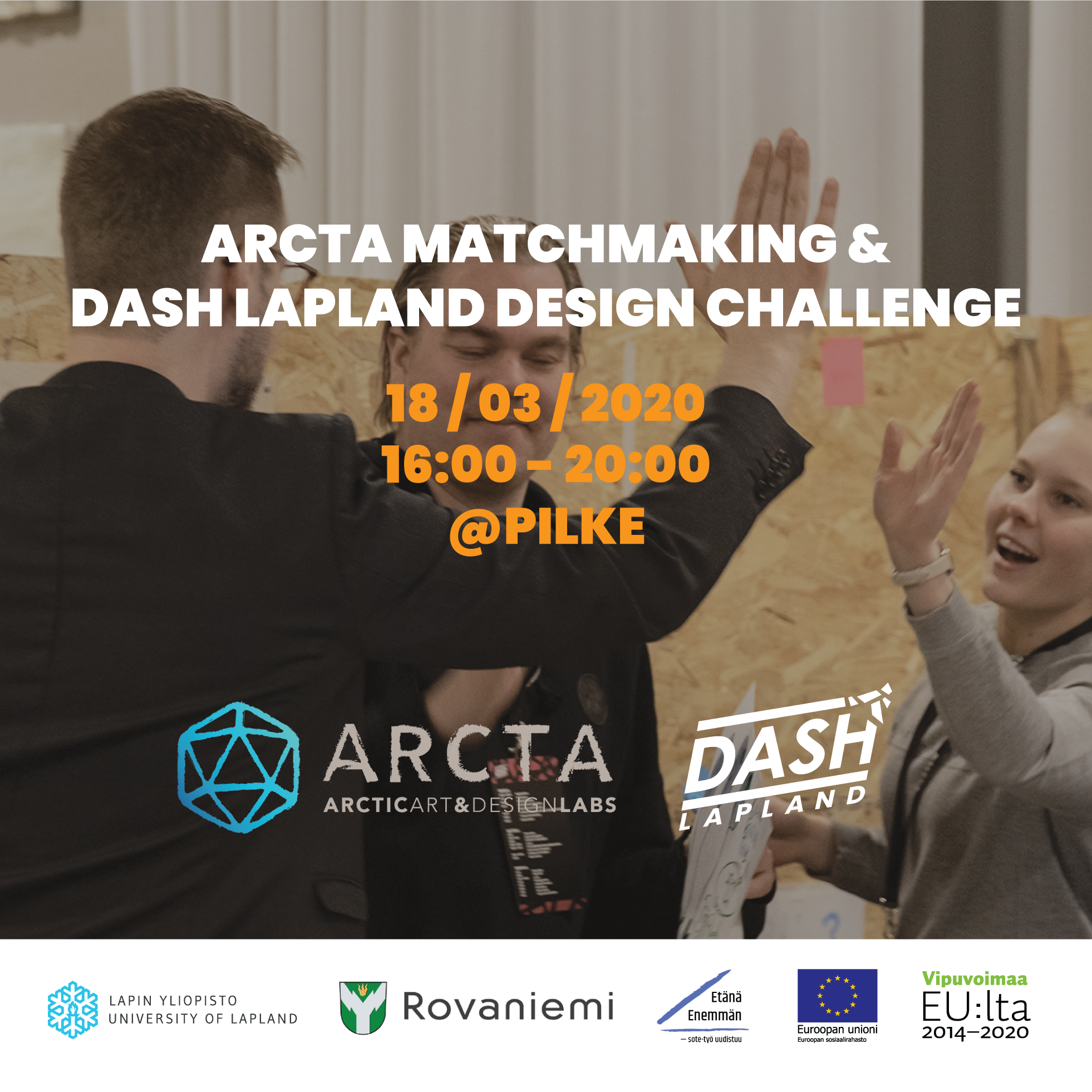 ARCTA Matchmaking & Dash Lapland Design Challenge
EVENT CANCELED
ARCTA Matchmaking & Dash Lapland Design Challenge
ARCTA – Arctic Art and Design Labs & Dash Lapland 2020
Arctic Design Week, Wednesday 18.3.2020
Do you need design? Do you provide design? Would you be interested to know more about the opportunities of design and creative problem-solving in developing solutions for different challenges? Or are you looking for new talent to help you with more diverse challenges of your own?
We welcome you to a matchmaking event organized in cooperation with Arcta and Dash Lapland! Come and show your know-how, look for new talent – or you can just come to network for future. You will also learn about the possibilities to apply design, art and creative problem solving.
The relaxed and efficient atmosphere will offer a possibility to find the right partner – or partners – for You, whether you're an entrepreneur, representative of an organisation or student.
Multidisciplinary encounters will get a special cherry on the top with design challenge. In the challenge you will experience an agile and simplified creative problem-solving process in small teams in a fun way. Focus is on learning how to apply different design tools to solve real life challenges.
Theme of this year is utilization of creative know-how in social- & healthcare services. The event is free and open to everyone interested regardless of your field. Register here by 15.3.2020!
Program:
16:00 Welcoming words
16:15 Matchmaking
17:15 Coffee Break
17:30 Keynote – Arctic Factory
17:50 Design challenge – City of Rovaniemi
20:00 Closing & free networking
More info: arcta@ulapland.fi & info@dashlapland.com
ARCTA Arctic Art & Design Labs is an centre of excellence built around the expertise, facilities and networks of Faculty of Art and Design at the University of Lapland. We serve in a larger scale as the creative link in the north.
Dash Lapland is the northernmost design hackathon that takes place in Rovaniemi in 17. – 19.4.2020. The event consists of multidisciplinary teams who are tackling the problems set by real life businesses using design thinking and service design tools. The Design Challenge gives out a brief taste of what's about to come!